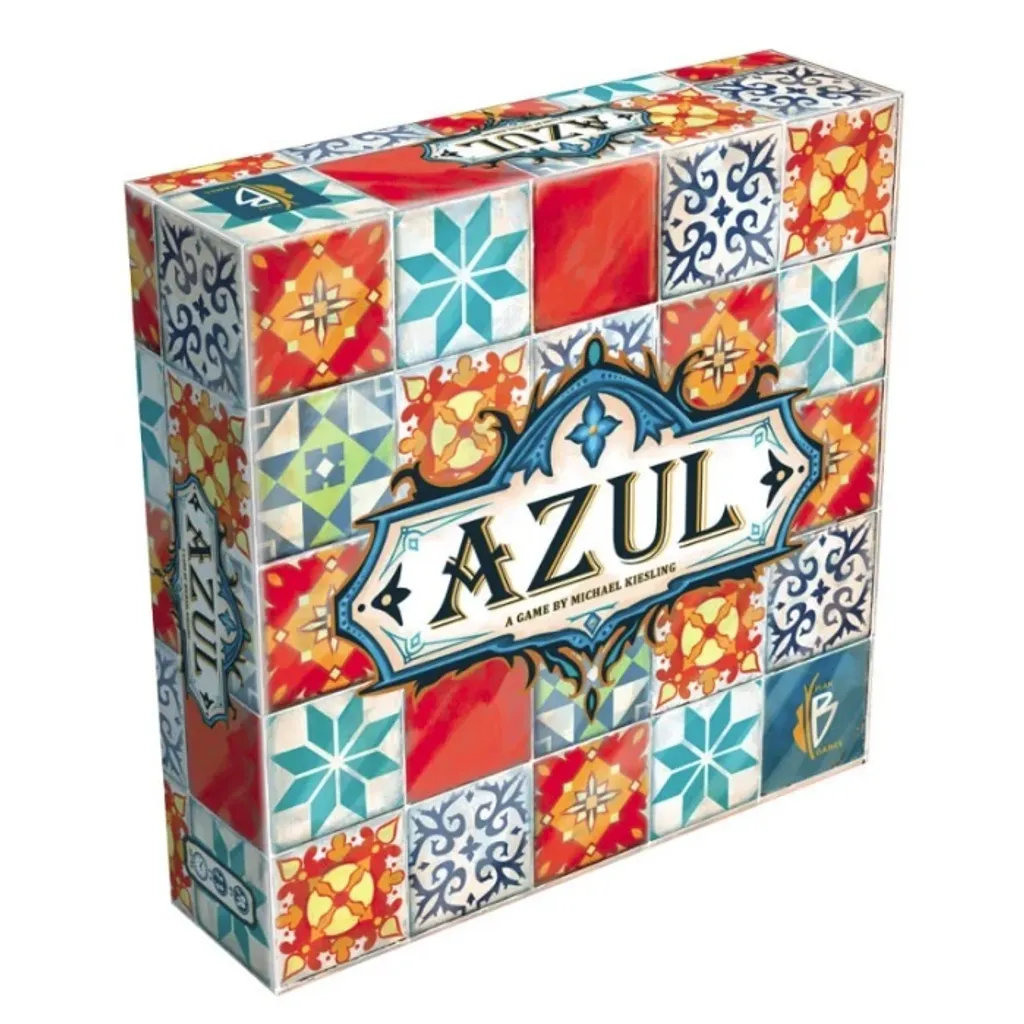 READY STOCK
Game Duration:
45 minutes
Designer:
Michael Kiesling
Publisher:
Orangutan Games
Published: 2018
Awards:
★★★ 2018 Spiel des Jahres (German Game of the Year) Winner ★★★
★★★ 2018 As d'Or - Jeu de l'Année (French Game of the Year) Winner ★★★
★★★ 2018 Mensa Select Winner ★★★
★★★ 2018 Origins Awards Best Family Game Winner ★★★
★★★ 2018 Nederlandse Spellenprijs Winner ★★★
★★★ 2018 Deutscher Spiele Preis Best Family/Adult Game Winner ★★★
★★★ 2017 Golden Geek Best Family Board Game Winner ★★★
★★★ 2017 Cardboard Republic Architect Laurel Winner ★★★

Azul was designed by the world famous, award winning game author Michael Kiesling. Azul captures the beautiful aesthetics of Moorish art in a contemporary board game. Players compete as artisans decorating the walls of the Royal Palace of Evora. By carefully drafting the correct quantity and style of tiles, the most clever of artisans plan ahead to maximize the beauty of their work (not to mention their scores!) while ensuring they wasted no supplies in the process.

The Spiel des Jahres 2018 winner now have its own localized edition (3 separate rulebooks in English, Bahasa Malaysia & Bahasa Indonesia).

English:
Introduced by the Moors, "azulejos" (originally white and blue ceramic tiles) were fully embraced by the Portuguese, when their King Manuel I, on a visit to the Alhambra palace in Southern Spain, was mesmerized by the stunning beauty of the Moorish decorative tiles. The king, awestruck by the interior beauty of the Alhambra, immediately ordered that his own palace in Portugal be decorated with similar wall tiles.

Malay:
Diperkenalkan oleh orang Moor, azulejo (asalnya jubin seramik biru dan putih) telah dianuti sepenuhnya oleh orang Portugis sejak Raja Manuel I, dalam lawatannya ke Istana Alhambra di Selatan Sepanyol terpegun dengan keindahan jubin dekoratif Moorish. Baginda tertarik dengan keindahan hiasan Alhambra itu, segera mengarahkan agar Istananya di Portugis dihiasi dengan jubin dinding yang serupa. Azul menjemputi anda, seorang pakar susunan jubin untuk memperindahkan seluruh dinding Istana DiRaja Evora.