Since the dawn of anime, Otakus have always been on the lookout for their favorite action figures and anime figurines!
Whether it be a Figma of their beloved anime waifu or a new addition to their huge lineup of action figures in Malaysia, anime fans just can't seem to get enough of anime merchandise.
But, for an Otakus outside Japan here in Malaysia, getting their hands-on simple anime merchandise is extremely hard. And for someone looking for good quality anime figures, it is an immense struggle and often requires one to activate their detective mode, scour each corner of the internet, just to find a lead on that specific waifu or husbando figurine.
And in the rare offset, you are finally able to find that specific figurine; for the most part, it is either out of stock or just does not delivers to your area.
The only time anyone can even hope to get their hands on a decent quality purchase is during a huge anime convention. But that too has many caveats. One can never be sure that they will get one they like or, in a more likely scenario, that specific Figma that you made that hour long trip to just to get to the anime convention center might just get sold out before you even have the opportunity to have a look at the figure in person.
Which leads you to start your hunt all over again in hopes that you get another lead, which leads to a repeating, never-ending spiral that you just can't seem to get out of.
So, to make things easier for you, Shirotoys is here to the rescue. We launched this website with a vision to provide you with cool, high-quality hobbyist merchandise delivered right to your doorstep.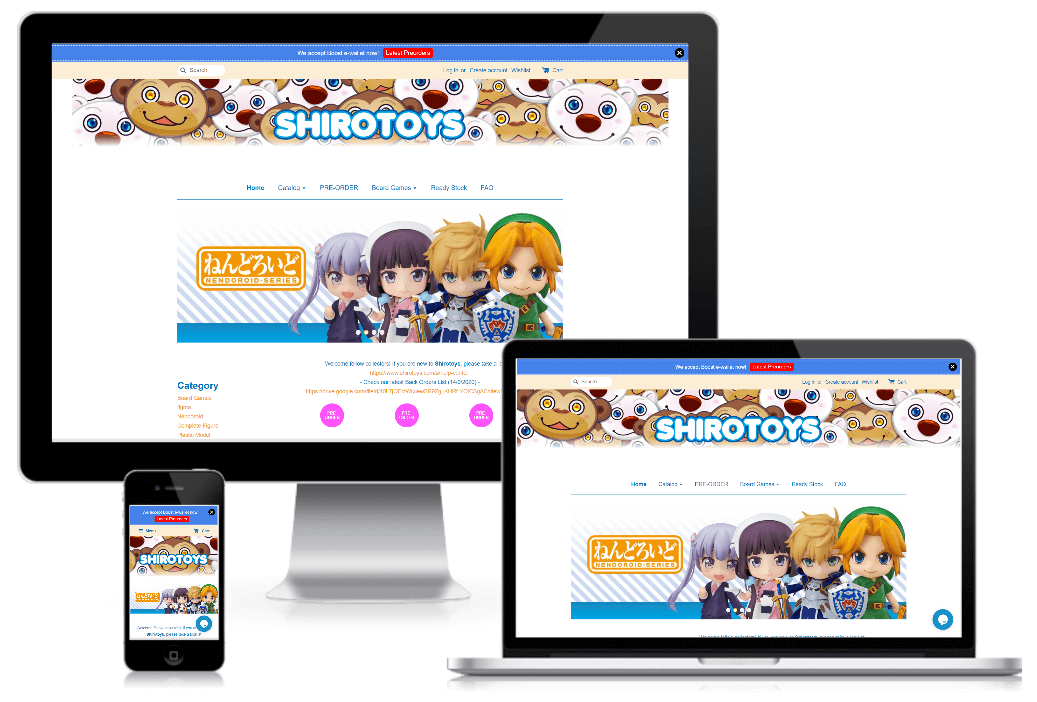 We offer a massive lineup of action figures for enthusiasts to choose from. Regardless of whether your soul lies with Rem or Emilia or you are just a hardcore Shinobu fan, we have you covered.
All of our products are exceptionally high quality, and they even come at a reasonable price. So calm down, you don't have to plan a bank heist to get your hands on one!
Moreover, in the rare chance that you can't find your popular waifu or that specific character you need to complete your anime figure collection, you can be sure that we are working around the clock to get them in our next line of pre-orders.
So, you can Bookmark our website, and we may even have your waifu, husbando, or favorite character lined up for a Pre-Order the next time you hop in to look at our collection.



But too much choice can be overwhelming for some people. So to make things easier for you and help you make the right decision, we at Shirotoys recommend you to get in contact with us, and our toy experts here will be more than happy to get you through all the different types of board games. And help you choose the best one for you, according to what you want and that too, just like the anime figurines, at a great price.
And to top it all off, Shirotoys accepts almost all the popular payment methods in Malaysia.

So, you can be sure that your preferred payment method is accepted, and you don't have to go through any hassle or troubles when trying to make a purchase at Shirotoys. According to Terence, an action figure fan and SEO Specialist, the main reason he likes shopping in Shirotoys is because they offer loyalty points that they can then use to get special prize goodies and lucrative discounts.
Getting action figures online in Malaysia should not be difficult, and Shirotoys is here to ease your concerns and provide the best possible solution for enthusiastic fans to get their hands on good quality anime merchandise and complete their anime collections. And when they are done there with anime, have a fun and amazing time with their friends and family members over a good dramatic board play of Drama Pukul or have a fun look at The Cikgu Life without having to deal with the trouble of sourcing them.