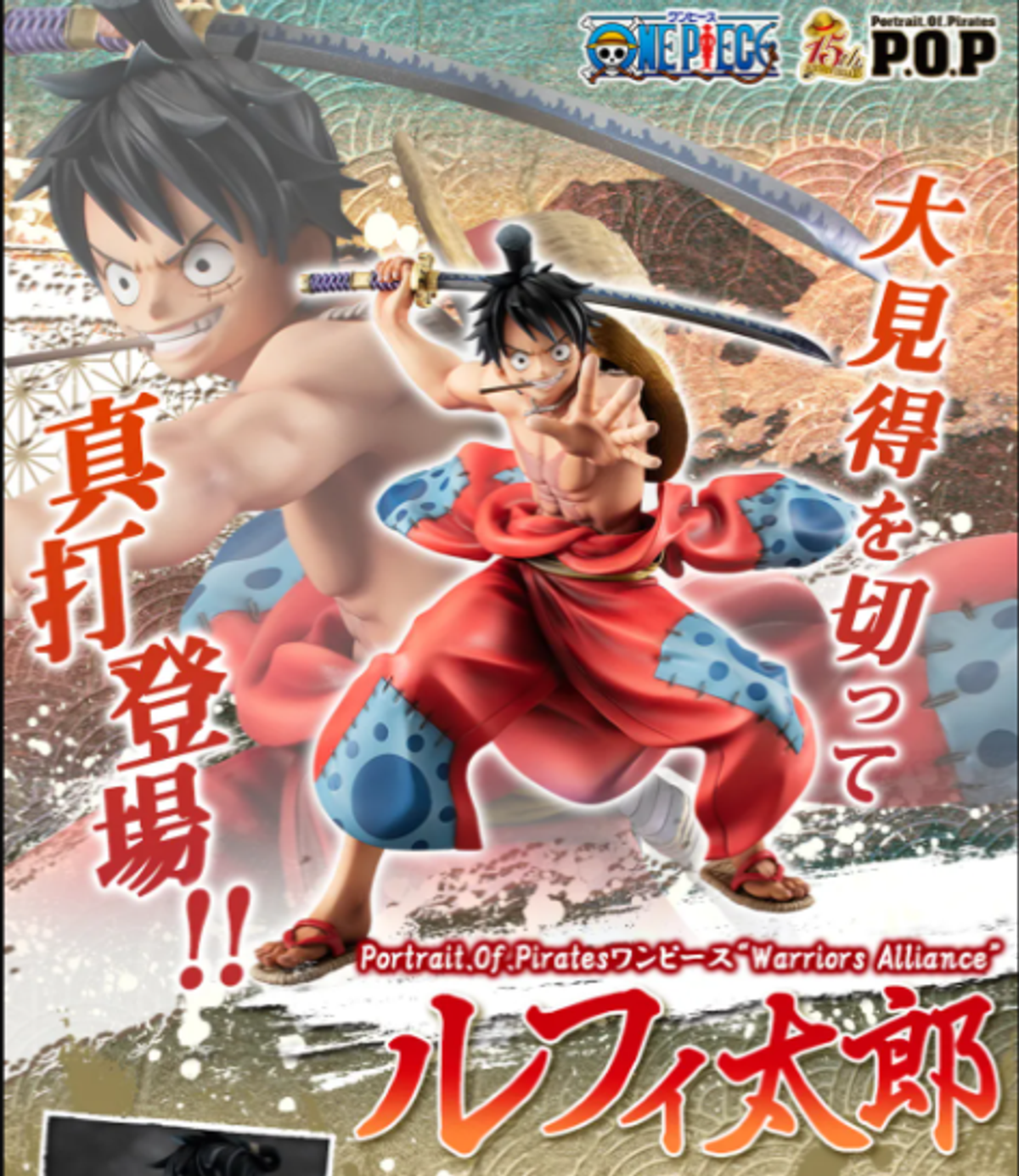 If we were to talk about a legacy anime here at Shirotoys; then One Piece definitely takes the cake as one of the longest-running, and popular anime franchises out there.
Ever since the series began its serialization, way back in 1997, One Piece has continued to gain momentum as one of the most beloved, and the biggest in-demand anime franchise in Japan.
And now, 2 decades later, One Piece has become a sensation worldwide.
It has sold over 480 million volumes globally and has taken the helm as the highest-grossing manga series of all time.
The franchise is now soo huge that it boasts massive fanbases, globally, who just can't get enough of their favourite anime franchise.
Even in Malaysia, One Piece is huge and the demand for One Piece figures is higher than ever. So, at Shirotoys, we have gathered some of the most in-demand One Piece figurines out there. And that too, directly from Japan, that you can easily get delivered right to your doorstep through us. With Shirotoys you don't have to go through any extra hoops, or even worrying about the small problems that make buying anime figurines in Malaysia, a hassle at that.
So, back to the One Piece figures collection; some of the most popular One Piece merchandise that you should be on the lookout for are obviously the amazingly detailed figurines that are being produced in Japan. Collecting these high-quality figures of beloved characters Luffy, Zoro, Nami, and the rest of the Straw Hat Crew is just the start of this hobby.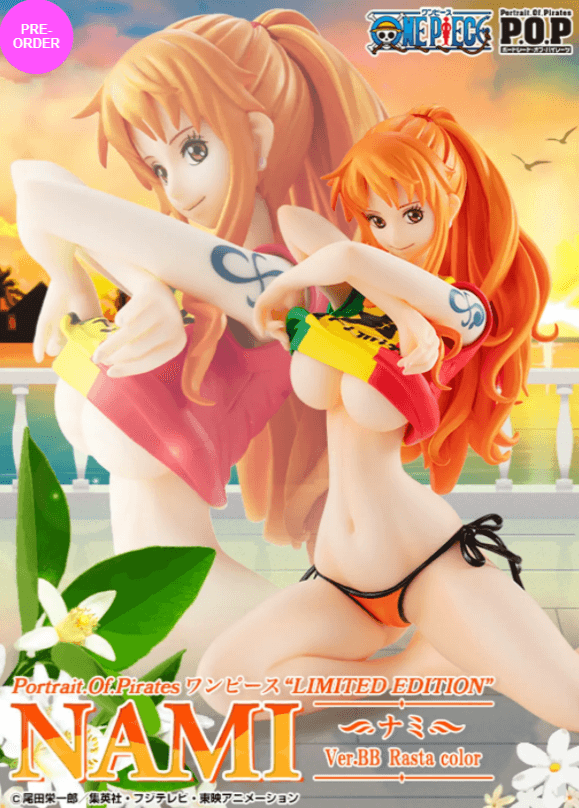 Some of the key figures like main villains, like the 4 Emperors, or just the plain old Crocodile and more are a must-have for every One Piece fan out there. But if you want to get your hands on some of these, officially licensed, original anime figurines here in Malaysia. There are some important details about that you need to know about.
Along with the different manufacturers, that we will get into a bit later, as a new collector you need to know that there are different grades of official anime merchandise that is out there in the market.
Different Grades of Official One Piece Figurines:
Yes, even in official, licensed anime merchandise there are different grades and different qualities that you can get on the market.
A bit shocking for some new collectors, but this difference is more than just appear in the One Piece anime figurine collection.
The differences come in all forms, but most of the quality concerns come from the manufacturers themselves.
Currently, there are 3 major One Piece figure manufacturers that you need to know about:
Bandai
Banpresto
Mega House
Out of these three, the Mega House figurines are considered to be the highest grade and the most detailed figurines that you can get from the official One Piece figure collection.
And this is one of the main One Piece figurine lineups that we offer here at Shirotoys.
The Portrait of Pirates Lineup:
The Mega House One Piece figurines are normally released under the Portrait of Pirates Umbrella Label. These Portrait of Pirates figurines are actually a part of Mega House's Excellent Model Brand line that are normally 1/8 scale models which roughly translates to, 22 cm to 9-inch tall figures.
The One Piece figurines produced under this label are considered by many to be the highest Grade One Piece figurines out in the market.
They are the most sought after One Piece Figurines in Malaysia and Japan, and it is hard to find a One Piece Figure collector who has the complete collection of every single figure in the Portrait of Pirates Lineup. The anime figurines produced under this label are not only incredibly detailed, but they also have some of the highest quality control of all the manufacturers out there.
Check out the widest range of One Piece figure at Shirotoys.
Each and every single figure produced by Mega House are individually checked out for any manufacturing defect by Mega House themselves, before they get out in the market. But, Mega House is not just focused on just making the One Piece Figures of high-quality materials.
They take great care in making sure that each and every Portrait of Pirates One Piece figurine, is crafted into an exact replica of the character as we see them on the screen.
Mega House goes far into making sure that each and every detail on a model is not only relevant to the character, but the pose and all the other niche features are in line with the character's personality.
And to that, the Portrait of Pirate lineup does not actually have any type of articulation built into their Portrait of Pirate lineup. But, rather, Mega House focuses more on bringing the best out of the personality of the character in great detail, rather than investing on some kind of gimmick, or a random feature.
The label entirely focuses on making high-quality One Piece models for display and collection purposes only.
But, that does not mean that you cannot customize your favourite character model. The models, although do not have any movements, they do come with a lot of detachable parts like, removable weapons, certain pieces of clothes that you can change depending on the model, and then, of course, model stands that you can use to showcase your One Piece figurines on, in all their pirating glory.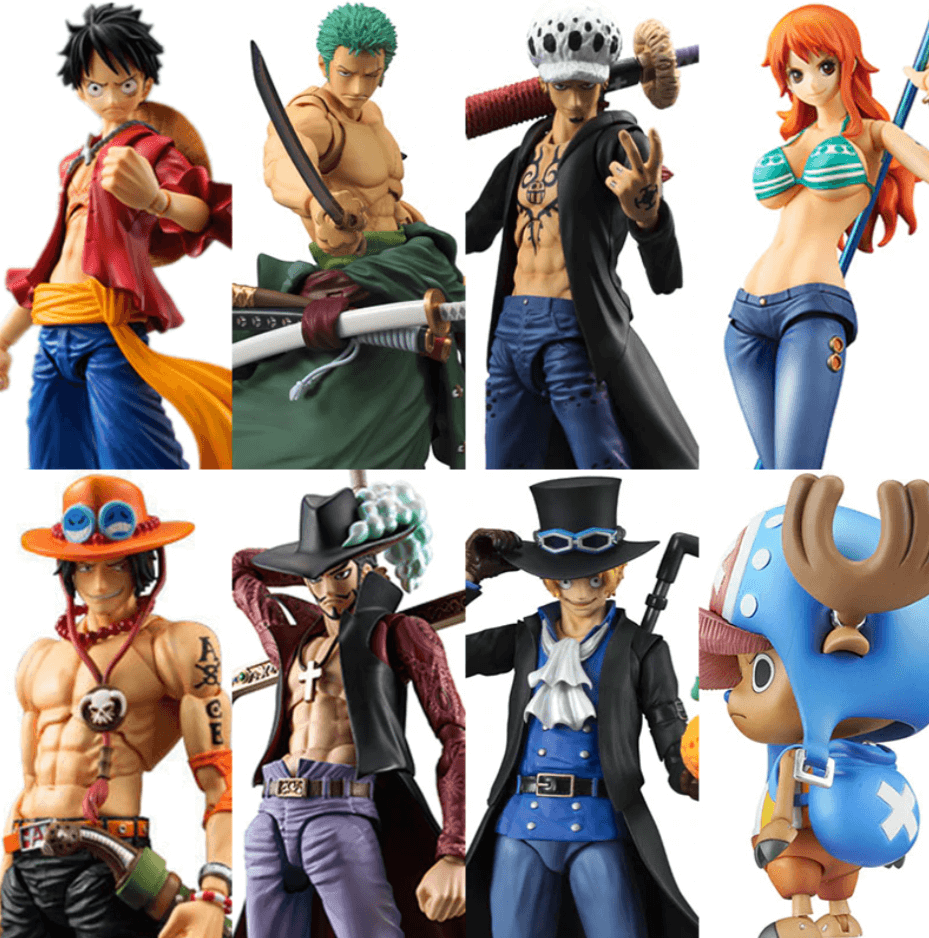 Mega House has even more types of One Piece figurines that branch off from their main Portrait of Pirate Label. Mega House has, over the years made their lineup of One Piece figurines even more accessible with simpler high quality 10 cm models under their Excellent Model Mild lineup.
These smaller One Piece figurines, despite being cheaper have the same level of care and due diligence put in by Mega House as their main lineup. And they even keep up with their quality standards, even in these small scale One Piece figures.
Continuing the talk about classification, Mega House have also classified the best One Piece models under the Neo DX (Deluxe) line of the Portrait of Pirate label. The Neo DX line is essentially their highest quality figures that, although are somewhat expensive, but the quality and the materials used makes them all the more worth it.
Though One Piece is a huge anime franchise that has been in continued serialization for the last 2 decades. So in order to commemorate certain parts, and pay homage to some Arcs, Mega House also certain lineups of One Piece figurines in Malaysia that entirely focus on that certain era in the Pirating world like the Portrait of Pirate (P. O. P) Strong and even Portrait of Pirate (P. O. P) Sailing editions are focused on character realizations, as they were portrayed in a specific story arc.
All of these branches of the Portrait of Pirates label have special features, like Portrait of Pirates Warriors of Alliance Line, here on Shirotoys have Zoro and Luffy as they are depicted in the Wano Arc. Or the Portrait of Pirates Playback Memories, has a ton of old One Piece characters like Nami's adoptive mother, Bell-mere or even the Princess of Alabasta, Nefertari Vivi revived back as they were early on in One Piece in more classic designs.
And they just don't stop there. Mega House also has Portrait of Pirates Limited Edition Lineup, where they release only One-Shot One Piece Figurines of a selected number of characters in limited quantity.
Like the Portrait of Pirates Limited Edition Nami or Belo Betty One Piece Figurines, that are available here available at Shirotoys.
The limited-edition figurines, normally don't have reruns, so, only a selected and limited stock is available for these type of lineups.
Still, Mega House is a manufacturer and they have re-runs, of previously released Figurines. Like, here at Shirotoys, we have certain popular in demand One Piece Figurines like the Portrait of Pirates Sailing Again, Fujitora Isshou or even Portrait of Pirates Neo-DX AOKIJI as Repeat lineups. These reruns are normally identical to the original releases, but some time Mega House goes through the trouble of making minor adjustments according to their own creative design concept.
Mega House has essentially one the biggest lineups of One Piece figurines in Malaysia under their Portraits of Pirates label, that they have built upon as the series progressed from one arc to another.
If you are looking to build your One Piece Figure collection, then there is definitely no better manufacturer than Mega House for One Piece.
Mega House deploys some of the best One Piece Figures out there, so, you can be sure to get the best, and the highest quality One Piece Figurines out on the market right now, through Shirotoys.
So, what are you waiting for?
Check out our lineup of some of the most popular Portrait of Pirates One Piece Figure in Malaysia here.